Our Hands, Your Wheels
We take a lot of pride in our wheel builds, so please get in contact here if you'd like to discuss a custom wheel program for your brand or business. We offer a wide variety of services and can tailor a package specifically with your individual needs in mind.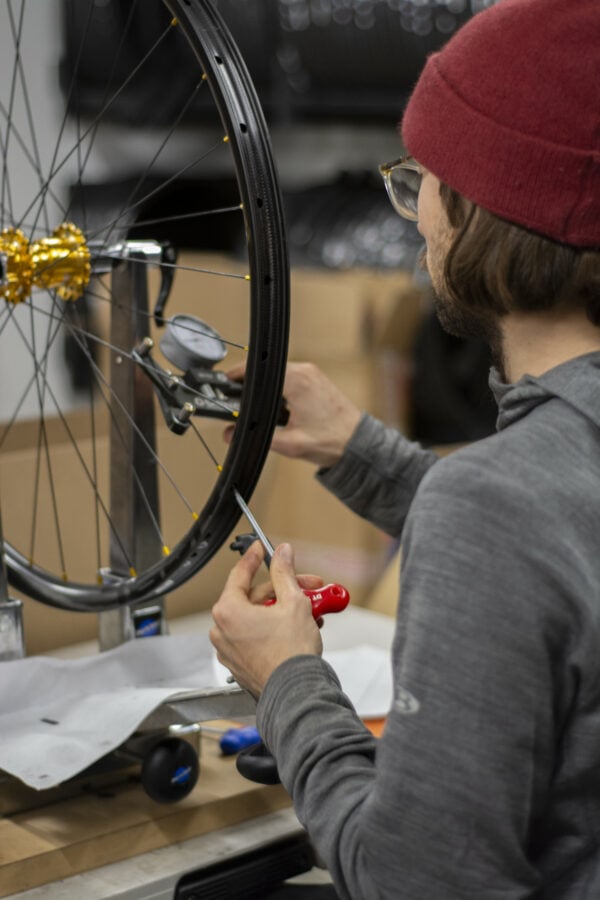 Interested in getting some carbon fat bike wheels built and shipped up North? We can do that. Do you have hubs but need alloy rims added to your builds? We can help with that. Would you like to develop your own branded carbon or alloy rims or wheel programs? We can do that too.
Build with Western Bike Company
Wheel building has been a cornerstone of our business for over a decade. The talented team of builders at Western Bike Company has been building premium wheelsets using the best components in the world, since 2015.
Our builders bring a wealth of experience to each detail of the wheel building process. From assessing a customer's needs and making recommendations to carefully calculating spoke lengths and adjusting hubs assemblies, we build with confidence. Over the years, we've developed the skills to work with a wide range of specialized products from trusted partners like NOBL Wheels, Stan's, Berd Spokes, Classified Cycling, Light Bicycle and Sapim.
Our Process
Every wheel we build at Western Bike Company is laced, tensioned, and trued by hand. We use professional grade, precision tools from Abbey Bike Tools, Sapim, and Wheel Fanatyk. This ensures that our wheels are built exceptionally true with exacting precision — a Western Bike Co. standard.
Once wheels come out of the stand, our arduous QC process confirms dish and trueness, while individual spoke tensions are recorded digitally and saved for accurate record keeping.
We also offer complete rim taping services comprised of Peaty's Tubeless Rim Tape System, and an additional layer of lightweight, industrial grade tape so that wheels are guaranteed to seat and seal without issue, every time.
Are you unsure of exactly what you need to make your wheel program a success? With our extensive wheel knowledge and hunger to embrace exciting new technology as it comes to market, we're uniquely positioned to assist with any and all of your wheel needs.